How To Start Human Hair Weave Business?
Posted on December 03 2019
Selling human hair weave is a very profitable business as many people already know.If you know how to run a hair weave business,it could bring you a lot of money and make you financially independent.Most of the hair business companies in US are importing hair from China and India.Brazilian hair and Malaysian hair is very popular on the market right now.Indian remy hair is very expensive hair ranges from $80-$300 depends the length of the hair.The human hair weave industry has become a multimillion dollar business,and its still profitable,because its in the beauty niche,girls are always want their hair looks beautiful.And we could make them happy:)
So how to start a hair weave business?Here is a brief guide might give you some ideas.
1.Research.
You have to do marketing research before you do anything.You need to know:
how many salons or stores are selling

 

human hair weave,and how is their business going?
Is there a lot of customers want to buy hair weave?
How do you want to start out your business?
What do you want to sell?And How?
There are several famous brands in US market,do you want to sell by their brand or create your own brand?
You need to clearly know what you will do in the next step.
2.Find a good supplier.
You need to prepare to travel.Most of the hair weaving are coming from China and India,its better to go to the real factory and talk with the hair business owner face to face.There are hundreds of wholesale human hair weave suppliers in China,its hard to find a good one,but if you find a good one,then that's your goldmine,keep secret your supplier,then you could get good quality hair also a good price,so your business will become easier.
3.Decide Where and How to Sell
Its time to decide how to run your business,there are mainly 2 ways,online or offline.
If you are not quite familiar with online business,you might want to open a store in your local,talk with other sellers and learn.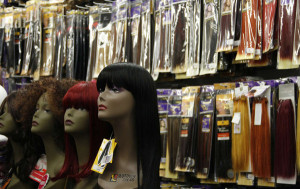 Online selling is what I love to suggest you,you are selling the hair to the whole world now!However,online stores will be more complicated if you are not good at computers.
4.Love your Job.
Yes,love hair weave,wear them yourself:)
If you have need ANY help with human hair weave business,or want to buy hair weave wholesale,do not hesitate to contact us